Tiara Este Austrian.
Posted On 17.08.2022
Hello dear friends. Speaking of bright and unforgettable jewelry, we cannot fail to mention the wedding of Prince Jean-Christophe Napoleon, head of the former imperial house of France,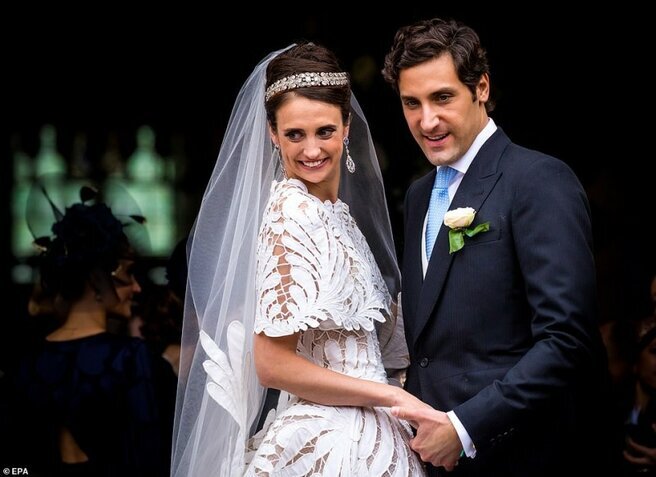 On October 19, 2019, in Paris, from the Cathedral of St. Louis of the Invalides, where the ancestors of Jean-Christophe Napoleon are buried, the wedding of the great-great-grandson of Jerome Bonaparte and the great-granddaughter of the last Austrian emperor Charles, Prince Jean-Christophe Napoleon and Countess Olympia von und zu Arco-Sinneberg took place.
Such a sickly union turned out, judging by the ancestors of both the groom and the bride.
Many expected that the bride would wear Este's chic tiara.
But, the bandeau diadem was made for her from the necklace of her grandmother on the mother's side, Princess Margaret of Savoy Este, in the marriage of Archduchess Robert Este of Austria.
And today we will just look at the Austrian tiara Este.
The tiara with two rows of diamonds and a detailed centerpiece is of unknown provenance, although it is likely that the tiara is a Habsburg, Savoy-Aosta or Bourbon-Parma heirloom, although it is called the Austrian Este tiara.
There is also a smaller tiara worn by Princess Margaret of Savoy-Aosta, daughter of the Duke of Aosta and Princess Anne of Orleans, at her wedding to Archduke Este of Austria, second son of Emperor Charles and Empress Zita.
Archduchess Isabella of Austria-Este, wearing the diamond tiara of her mother Archduchess Margaret, married Count Andrea Czarnocki-Luceski on March 10, 1997.
Archduchess Katarina of Austria-Este attended the wedding ball of the Prince of Prussia in 2011 wearing the Este tiara!
The Austria-Este tiara was also worn by the eldest daughter of the Archduke and Princess Margaret, Archduchess Maria Beatrice of Austria, when she married Count Riprande von und zu Arco-Zinneberg in 1980. So did their youngest daughter, Archduchess Isabella, when she married Count Andrea Czarnocki-Luceschi in 1997.
Unlike the Savoy-Aosta tiara, which is now owned by Princess Margaret's sister-in-law, Princess Astrid of Belgium, Princess Astrid wore the Este tiara only once at the wedding anniversary of Queen Margaret and Prince Henrik, as well as at the anniversary gala concert in 1992.
But Countess Olympia at her wedding was in a tiara, remade from her aunt's necklace.
But the earrings were the same as those worn by Princess Maria Beatrice for her wedding to Count Ripardoy Arco-Zinnebergxim.
Which tiara do you like best? Old or new?