On which finger do widows wear a ring — social norms and religious rules
Posted On 17.08.2022
Good afternoon my dears. Speaking of jewelry, we often point out certain rules for wearing them. This is especially true for wedding rings.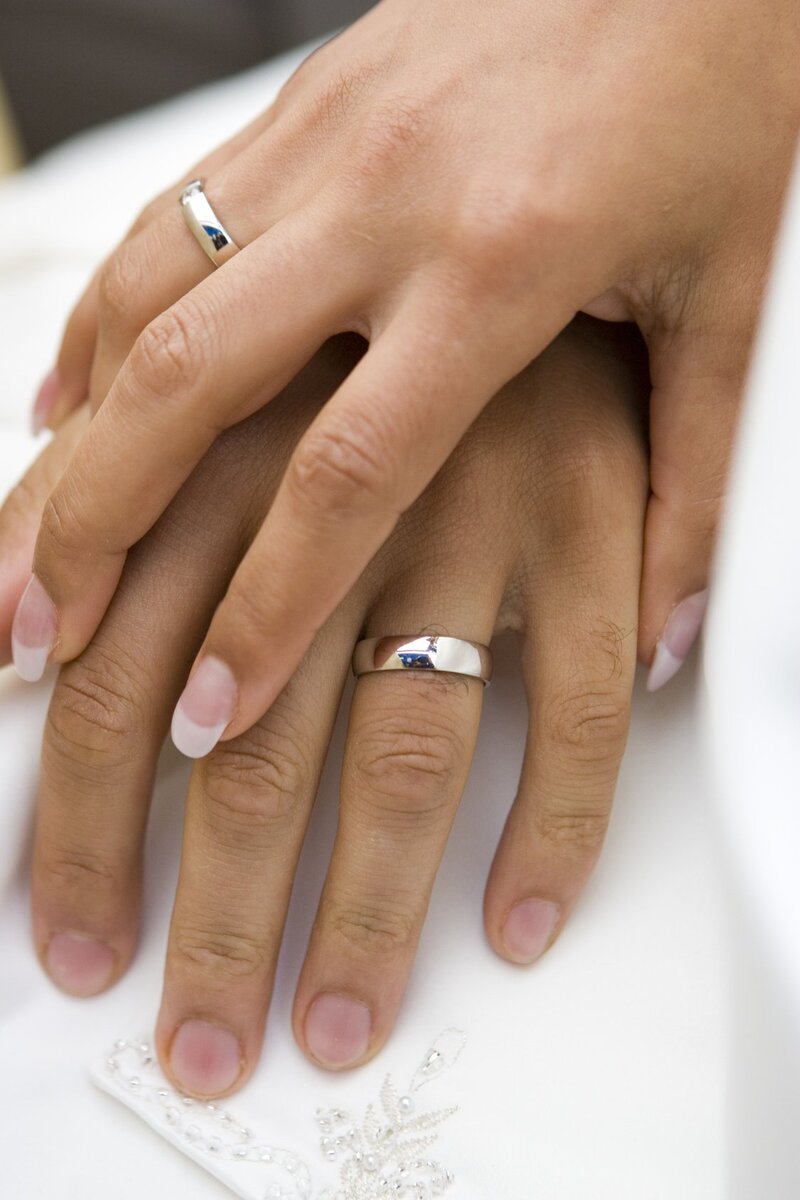 Usually the ring on the ring finger of the right hand symbolizes marriage. This shows others that people have sworn allegiance to each other and want to be together for the rest of their lives. But there are tragic moments in life, and a woman, even after the death of her husband, wants to preserve the memory of him.
Rules for wearing rings
Orthodox people exchange rings during a wedding and wear them on the ring finger of their right hand. The fact is that the Orthodox are also baptized with their right hand, which is why they placed a symbol of love and fidelity on it.
However, in Catholic countries, married women wear rings on their left hand. This is due to its closeness to the heart and, accordingly, with love and devotion.
In the event of the death of a husband, some ladies prefer not to remove the ring, which symbolizes memory, loyalty and devotion. But this is not at all necessary, and if a woman decides to part with this symbol of marriage, she has every right to do so.
Wedding ring traditions
If, after the death of her husband, a woman remains faithful to the memory of her husband and does not want to enter into a new relationship, she wonders which finger she should wear the ring on.
In this regard, certain traditions are formed in society. There are several beliefs that characterize the symbol of love and fidelity.
It is believed that the precious metal, like a sponge, absorbs all the negative energy of its owner. Therefore, the decorations of the deceased husband may harm his widow. The best solution is to think about leaving the ring in the church.
Parents who celebrate their silver wedding anniversary give their children "lucky" rings as a talisman for a successful family life.
Cases should be avoided when the wedding ring breaks, otherwise it will take a long time to part or get divorced.
Other people's rings, especially those used in the previous wedding ceremony, will bring happiness only to their owners.
Many believe in traditions very deeply, so they strictly follow the rules of the church and leave the spouse's ring on their hand or donate to charity.
But if the wife nevertheless decided to keep her husband's number for herself, then the size of the jewelry affects the choice of finger. Usually the man's hand is larger, so the ring size may not fit the widow on any finger.
Of course, classic rings without inserts and engraving can be reduced. But modern options, where there are relief decorations, engraving, a scattering of precious stones, do not transform. Therefore, many prefer to wear the wedding ring of the deceased spouse as a talisman on a chain around the neck.
Two rings on one finger
It is important for women who adhere to strict rules in everything related to marriage to be aware of the freedom to choose the option of wearing the ring of a deceased husband. Neither society nor the church prescribe strict rules and do not oblige to wear a wedding ring.
So, some prefer to wear both rings on the ring finger of the left hand.
However, if you meet a woman on the street with two rings on the ring finger of her right hand, this does not mean that she lost her husband prematurely. Some people just really like to dress up, so they wear several rings at once.
Questions of religion
The ring on the woman's left finger does not contradict the Christian religion. Faith helps to cope with grief, so if the widow decides not to take off her jewelry, the church will support her.
Religion does not approve of the belief that rings left at home create an aura of eternal loneliness.
However, religious canons encourage charity. Therefore, the best solution for believers would be to donate jewelry to hospitals, orphanages or churches.
Weighted decision
It is psychologically difficult for a widow to make an immediate decision about engagement rings. She is heavily attacked by the advice of relatives, public opinion, religious canons and norms. Last but not least, a woman listens to her own feelings. But conflicting views sometimes prevent a woman from making a decision.
In the case of the wedding ring, the standards and the correct decision acceptable to each person will not be accepted.
For some, it is important to follow religious dogma, someone has public morality, and another woman cannot imagine her life without memory of her deceased husband. Therefore, every widow has the right to choose, and no one can blame her if she refuses to wear wedding rings.