Moonstone.
Posted On 17.08.2022
Good afternoon, dear readers. Today I am moving on to one of the most beautiful and mysterious stones, and this is one of my favorite stones, by the way, the Moonstone…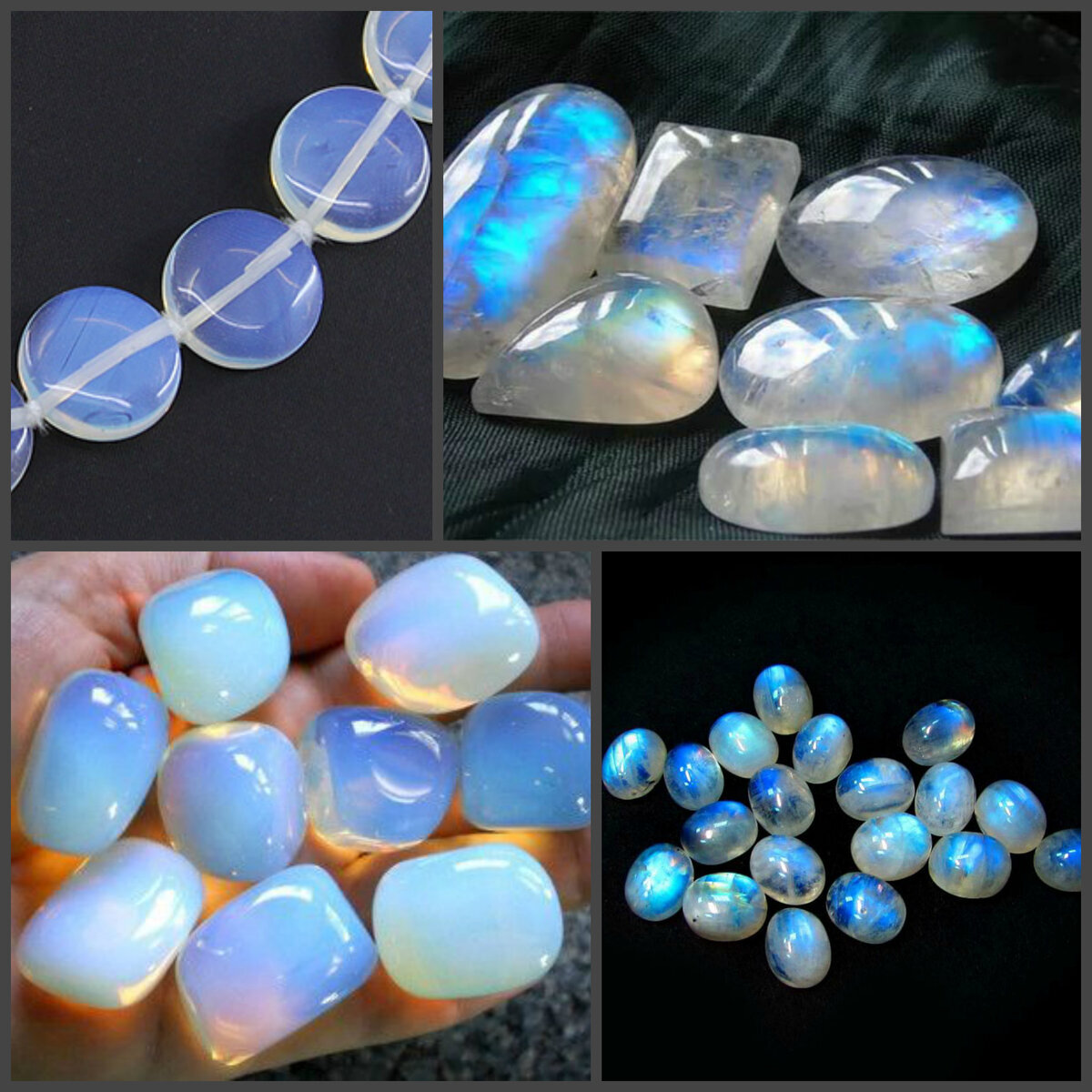 A delicate stone with a light gray or blue glow, it got its name because of its resemblance to the radiance and brilliance of the moon. Pearl, purple and white and lilac shades are always associated with semi-precious stone and water element.
Astrologers, choosing the Moonstone for the signs of the Zodiac, have always indicated it as a universal amulet in horoscopes for almost everyone.
The magical and healing properties of moonstone
Moonstone has several varieties, each of which has a certain structure, transparency and shades. These are quite fragile minerals, sensitive to shock and compression, quickly lose their glossy sheen with careless handling.
Moonstone calms the nerves, softens the character, awakens tenderness and sensitivity.
Enhances intuition, according to legend, can give its owner the power of clairvoyance and prophecy. It also helps to understand the past, it is a talisman for historians and archaeologists.
According to astrologers, if you hold a moonstone in your hands and focus on a problematic situation, it will help you find the right solution.
Moonstone reveals the talent of creative people, gives inspiration, helps to better express their thoughts, develop the gift of eloquence and persuasion. Traditionally, rings with this stone were worn by lawyers, teachers, public figures, deputies.
In romantic relationships, moonstones help people find their soul mate, it is also a talisman of peace and strong relationships.
It protects from the evil eye, damage and dark energy, restores energy balance.
This is an effective amulet for players, it stimulates luck in gambling.
The mineral has been associated with water since ancient times, so healers use it to treat kidney stones. Reduces the deposition of salts in the joints and bile ducts.
Improves drainage in tissues, normalizes hormonal levels.
Moonstone amulets help women and calm hyperactive young children.
It also provides an opportunity for the treatment of epilepsy and cardiovascular diseases.
The mineral is useful at elevated temperatures with infectious and inflammatory processes.
What zodiac signs does Moonstone help?
The stone is an effective assistant, regardless of the sign of the zodiac.
For cancer, Moonstone is considered the best amulet. This talisman restores strength, improves health, attracts money for this zodiac sign, helps in business and love.
He will help Pisces to gain power over their feelings, overcome excessive love and find their true love.
Scorpions Moonstone will give confidence, helps to unleash creativity. In addition, the amulet protects scorpions from colleagues.
Gemini , this stone helps to focus on the goal, calm down and change moods.
Libra will be able to restore energy balance and balance thanks to this stone. Meditation using a moonstone will be effective for this zodiac sign.
Taurus stone inspires optimism, relieves stress, treats women's diseases.
Aries, Sagittarius and Capricorn will not get a positive result from the stone, as it relaxes them too much, makes the representatives of these zodiac signs lazy.
In Russia, Moonstone is very rare, mainly in the Urals, Siberia, and Yakutia.
To date, its largest deposits in India and Sri Lanka are practically exhausted, as a result of which the jewelry market is flooded with synthetic fakes. Unusually bright unnatural colors are the first sign of artificiality of the stone. In addition, moonstone is naturally very cold and does not heat up in the hands, unlike synthetic ones.
How to wear moonstone?
Each astrologer will confirm that the magical properties of each talisman are best manifested when it is in direct contact with the human body. This does not depend on the type of decoration. Moonstones can be used in decorations such as:
earrings;
medallions;
pendants;
necklace;
bracelets;
Rings.
Silver not only emphasizes the gentle overflows of pastel shades of the gemstone, but also strengthens its unusual properties many times over.
All the beneficial properties of the stone appear during the full moon. But in the phase of the waning moon, a pendant, ring or bracelet with precious stones is better to be postponed.
Jewelry with a moonstone will not only be a spectacular accessory, but will bring peace and tranquility to its owner.
Do you like moonstone jewelry? Does he help you?