Frange Tiaras (Diamond Fringe) in the boxes of the royal families of Europe and Russia.
Posted On 17.08.2022
Hello, not so long ago the anniversary of the birth of Grand Duchess Elena Vladimirovna, the only daughter of Grand Duke Vladimir Alexandrovich of Russia and Duchess Maria of Mecklenburg-Schwerin, who married Prince Nicholas of Greece and was the mother of Princess Marina of Yugoslavia, Princess Marina, Duchess of Kent, and Princess Elisabeth, Countess of Terring-Jettenbach. In honor of this day, we will consider the Fringe tiara.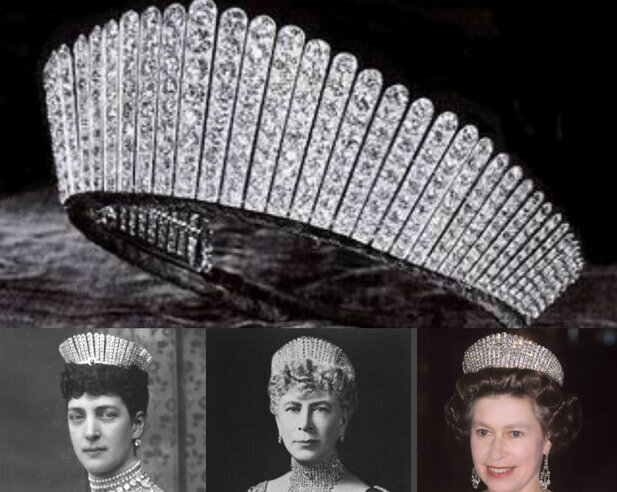 Almost all the ruling dynasties of Europe had similar Russian tiaras, which they ordered from their jewelers.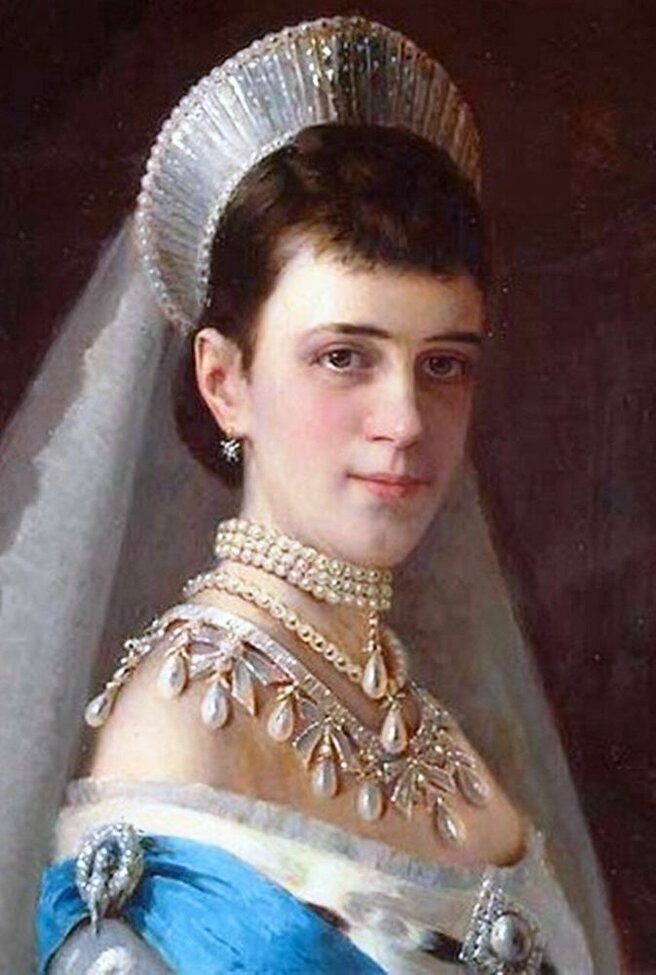 It was this tiara that was a wedding gift to Duchess Maria of Mecklenburg-Schwerin when she married Grand Duke Vladimir Alexandrovich of Russia in 1874. The tiara with a diamond fringe imitated the shape of the traditional Russian kokoshnik headdress and was kept in the Romanovs' box.
In 1902, the Grand Duchess presented the Fringe tiara to her only daughter, Grand Duchess Elena Vladimirovna, when she married Prince Nicholas of Greece.
This tiara was given to all Grand Duchesses. The tiara could also be worn as a necklace. The princess is shown wearing this tiara in a portrait in 1910.
The Vladimir Tiara was also worn by Prince Nicholas' youngest daughter, Princess Elisabeth of Greece, when she married Count Karl Theodor of Torring-Jettenbach in 1934, and just a few months later, her eldest daughter, Princess Marina, when she married Prince George.
Archduchess Sophie con Habsburg shared stunning snaps of her mother, Archduchess Helena, wearing the gorgeous Vladimir Fringe tiara for Mother's Day!
The Vladimir tiara Fringe was inherited by her granddaughter Countess Helene of Turring-Jettenbach, who wore it last year to her wedding to Archduke Ferdinand of Habsburg-Lorraine. Archduchess Helena has worn the tiara on numerous occasions from the 1950s to the present day.
In 1990, Archduchess Helena's daughter, Archduchess Sophia of Habsburg-Lorraine, wore the fringed Vladimir tiara to her wedding to Prince Mariano-Hugo von Windisch-Grätz in Salzburg.
And this is Sara Maya al-Askari at her wedding to Archduke Maximilian of Habsburg-Lorraine in Rome in 2005.
The Fringe Tiara has always caught the eye, which is why they have been in many of the ruling families of Europe.
Queen Elizabeth got married wearing this tiara.
I have worn it many times to various events.
The same tiara can be seen on the wife of Elizabeth's cousin, Countess Michael of Kent.
As for the fate of the Russian diadem, Alexandra Fedorovna took it with her to Tobolsk exile. The fate of both is very tragic: the empress was shot, and the tiara fell into the hands of the Bolsheviks. Her further fate is unknown.
So, all french tiaras are studded with skillfully selected diamonds, so their owners shone and attracted attention.