Brooch of the Queen Mother's Irish Guard
Posted On 17.08.2022
Hello dear readers and guests of our channel. So the first month of the year is coming to an end, which means that soon we will have a series of new holidays. And today we decided to remember one of the national British festivals, St. Patrick's Day!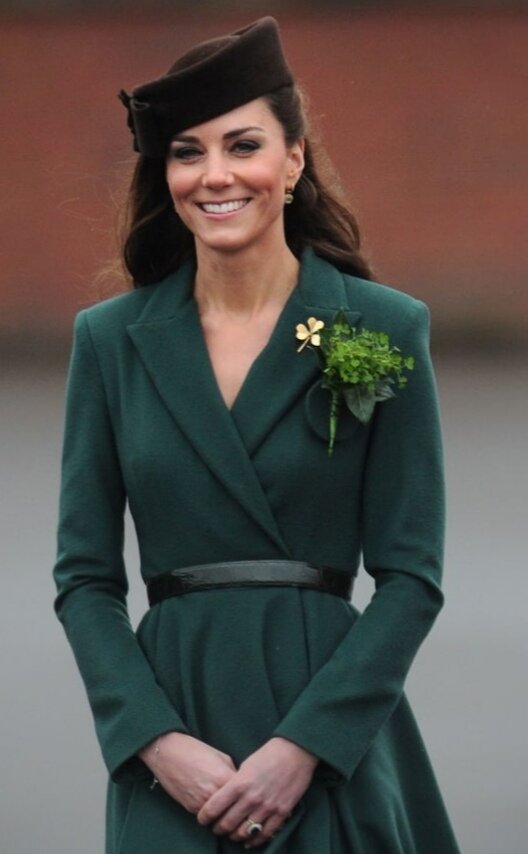 And let it be celebrated on March 17, today we will talk about one amazingly beautiful thing associated with it.
Each year, members of the royal family who participate in the event pin a shamrock brooch on the lapel of their coat, jacket, or military uniform.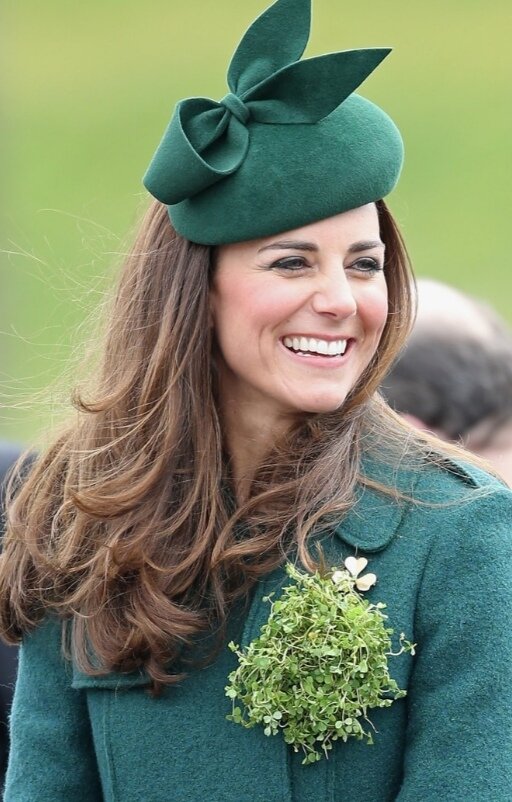 The textured gold surface shamrock brooch features a small single emerald and was reportedly made by Cartier. The brooch belongs to the crown and is loaned to the Duchess of Cambridge.
While some say the brooch belonged to Queen Alexandra, the first royal lady to give shamrocks to the Irish Guards, the Queen Mother was the first person photographed with the brooch back in the 1960s.
She was the commander-in-chief and handed out shamrocks until her death in 2002.
From 2002 to 2011, it was Princess Anne who gave the Irish Guards Shamrocks on St Patrick's Day, always wearing this gold and emerald shamrock brooch.
Since 2011, the Duke of Cambridge has been a Colonel in the Irish Guards, and the Duchess accompanies him for most of the years on the St. Patrick's Day Parade.
These days, the Duchess is the main wearer of the Irish Guards brooch, and instead of saving it exclusively for the Parade, she also wore it to a garden party in Northern Ireland.
On 14 June 2016 The Duke and Duchess of Cambridge attended the Garden Party of the Secretary of State for Northern Ireland at Hillsborough Castle, Belfast. More than 2,500 guests were invited to the annual event. This was the Dukes' second visit to Northern Ireland.
On the morning of June 14, the Duke and Duchess expressed their condolences to the victims of the horrific attack on the Orlando's Pulse nightclub outside the US Embassy in London. They signed a book of condolences and then spoke with representatives of the US Embassy's LGBT network GLIFAA.
Later in Belfast, the Duke and Duchess planted a tree to mark the start of the party.
The Duchess spoke with more than 2,500 invited guests, who included people from all walks of life in Northern Ireland, including volunteers and community organizations, local charities and youth organisations.
The Duke of Cambridge wore a dark blue suit with a blue tie. The Duchess replicated the 2006 Day Birger et Mikkelsen coat and the new Lock & Co hat. with Kiki McDonough floral citrine earrings and a gold shamrock brooch.
Personally, I prefer the combination of a brooch with dark images. Deep greens and blues look perfect on Kate and brightly accentuate the gold.
Which brooch look do you like the most?